"No man is an island, entire of itself. Each is a piece of a continent, a part of the main."
- John Donne, For Whom the Bell Tolls
For much of the latter half of the 20th century, globalization seemed a fait accompli. After World War II, the free states of the world banded together against communism. Helping thy neighbor through increased trade meant hurting the enemy. Then the Berlin Wall fell, at least in part, because of the disparate growth paths of those countries outside the Iron Curtain and those stuck inside the creaking edifice.
The European Union was formed, eliminating many trade obstacles amongst some of the most established economies in the world. Thoughts, people, money and goods could flow freely in an aggregate economy not much smaller than the United States. China committed to opening its borders in the pursuit of economic development, as did many other emerging markets.
In 1992, the North American Free Trade Agreement signaled a commitment to integrate freer trade into less structured alliances. However, even back then, there were concerns about the domestic impact that free trade agreements would have. Remember the "giant sucking sound" of production out of the United States into Mexico predicted by Ross Perot, one of the few third-party candidates of note in American history?
Fast forward almost three decades and globalization is under attack. From physical obstructions (there were 7 border walls globally at the end of World War II, increasing to 77 today) to political forces in place (see the increasing level of international trade barriers below), there are indications that was once thought an intractable force will be under stress in the coming decade.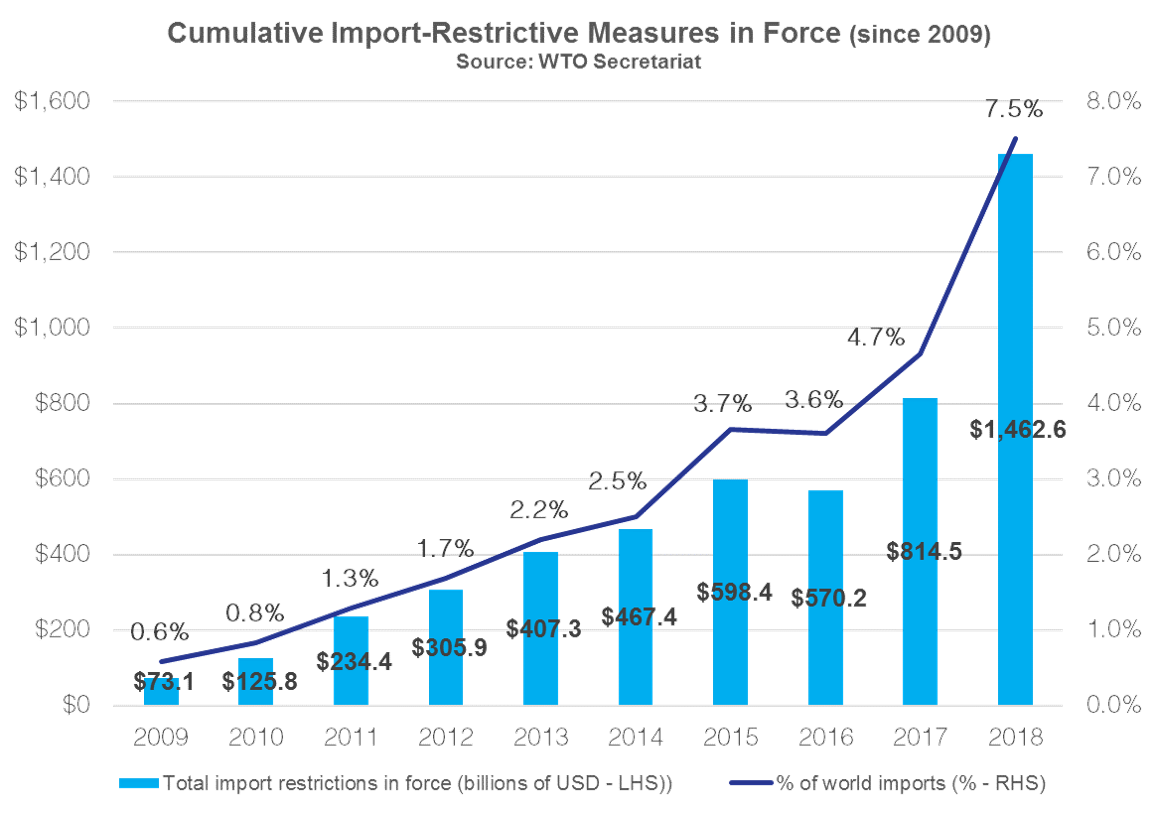 The rise of anti-globalization is not only a U.S. phenomenon. While Britain is the other headliner in removing itself from international accords, many nations face rising populist movements. The social science behind the reasons for this and potential outcomes is quite interesting, yet beyond our scope. What is within the scope of this publication is the potential financial ramifications of continued de-globalization.
American hegemony since the 1940s has equated to the dollar being king. Foreign countries have held large stocks of dollars to stabilize their economies, buying and selling on the open market to smooth out their own currency fluctuations. Each time a contender arose to challenge the dollar's supremacy, the contest was thwarted by some macroeconomic shock or other reason – see the euro and Chinese renminbi. With the rise of cryptocurrencies, more coordinated global central bank policy, and the U.S.'s rising debt levels, foreign governments can diversify some of those holdings with less risk. The transactions costs for converting to and from third-party, non-dollar currencies have greatly diminished with the rise of electronic markets. A drop in international trade, along with decreasing demand, bolsters the argument for a weakening dollar.
In the real economy, globalization also came with lowered regulations against monopolies. How could a company be a monopoly if it needed to contend with competitors around the world? Surely, the market would take care of itself to prevent the manipulations of monopolistic monoliths. We have not seen the current level of political interest against multinational corporations since the European Union challenged Microsoft's dominant position in the market in 2007. The tech behemoths of the United States (Facebook, Amazon, Google, Apple, etc.) will likely see more domestic and foreign anti-trust suits over the coming decade. Microsoft eventually rebounded from its legal wrangling with the EU, but the stock price languished for nearly a decade. NIH (not invented here) syndrome has always had a place within corporate culture, but its spread to a national level would be another example of the defanging (pun intended) of globalization.
One of the less discussed aspects of the decline in international interactions is the effect it would have on global development. If a less developed country cannot readily purchase the technology of more advanced countries, how does it improve the lives of its citizens? It either needs to relearn what others already know or steal their knowledge. Neither is an optimal economic outcome.
The history of the world is one of rising and falling global interconnectedness. Investors should be aware of how those fluctuations can impact their portfolios. There is a lot more to this discussion than we have room for here, but we look forward to continuing the discussion in greater detail with you in the near future.
---
Disclaimer Notice
This material is prepared by Cornerstone Advisors Asset Management, LLC ("Cornerstone") and is not intended to be relied upon as a forecast, research or investment advice, and is not a recommendation, offer or solicitation to buy or sell any securities or to adopt any investment strategy. The opinions expressed are as of the published date indicated on the article and may change as subsequent conditions vary. The information and opinions contained in this material are derived from proprietary and nonproprietary sources deemed by Cornerstone to be reliable, are not necessarily all inclusive and are not guaranteed as to accuracy. As such, no warranty of accuracy or reliability is given and no responsibility arising in any other way for errors and omissions (including responsibility to any person by reason of negligence) is accepted by Cornerstone, its officers, employees or agents. This material may contain 'forward looking' information that is not purely historical in nature. Such information may include, among other things, projections and forecasts. There is no guarantee that any forecasts made will come to pass. Reliance upon information in this material is at the sole discretion of the reader.

Any accounting or tax advice contained in this communication is not intended as a thorough, in-depth analysis of specific issues, nor a substitute for a formal opinion, nor is it sufficient to avoid tax-related penalties.

The information is provided solely for informational purposes and therefore should not be considered an offer to buy or sell a security. Except as otherwise required by law, Cornerstone shall not be responsible for any trading decisions or damages or other losses resulting from this information, data, analyses or opinions or their use. Please read any prospectus carefully before investing.