"The advantage of emotions is that they lead us astray."
- Oscar Wilde
The quote above makes perfect sense if you are an artist, philosopher or a writer. In those cases you want to explore paths not well trodden. You want to develop worlds not yet created. I wish we could say that emotion was as valuable in investment management, but it is not. In fact, it is detrimental to successful investment portfolios. People are emotional, and markets are too, but the latter often causes the former to make inappropriate decisions. When you panic, it is often because your portfolio has lost value. When greed overcomes you, it is often because you have made a lot of money. It is as though the market toys with investors, testing their patience and punishing their hubris.
If you are an experienced investor, you have likely felt the tug of one of the common behavioral finance missteps.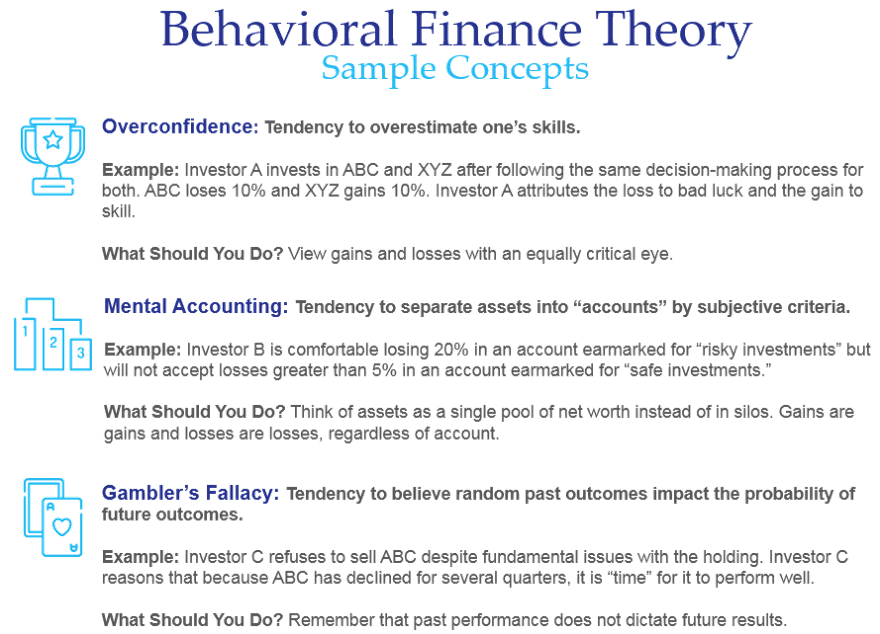 This list of mistakes is far from comprehensive. Our brains are structured to store, recall and analyze data in the easiest possible way. Because of this, investors often assign outsized importance to recent events when determining the appropriate course of action.
How can an investor avoid falling victim to human nature? Well-crafted investment policies that are regularly reviewed are a good start. Timing the review when you are in a position of strength makes that review more impactful. Even with some recent volatility in the financial markets, most portfolios are still sitting near all-time highs. They can go higher, but if you have become greedier over the past decade than your situation allows, would you not want to have the conversation with your advisor now, rather than during or after a correction? If you have been more conservative than you should have been and "missed out" on the bull market, does it not make sense to review your policy to set a game plan to correct that mistake?
Investment consulting is a not-for-prophet business. No one can predict or control the capital markets. What we can do is ensure that a robust process tied to your goals is in place. We are not publishing this piece with the expectation of impending doom, but we hear the rising chorus of one in the marketplace. These pronouncements have been wrong so far, but it does not stretch our imagination that they will come true at some point in the future. When that happens, knowing a plan is in place may help keep your emotions in check.
I would like to thank those in attendance for the recent presentation I made at the annual meeting of the Pennsylvania State Association of County Controllers on "Economic Outlook & Fiduciary Responsibilities" – a riveting topic if ever there was one. I would also recommend to you the recent article, penned by Chris Lakatosh, in
Network Magazine
. It is a good take on what you should consider before retaining an advisor. We hope you are having a wonderful summer.
---
Disclaimer Notice
This material is prepared by Cornerstone Advisors Asset Management, LLC ("Cornerstone") and is not intended to be relied upon as a forecast, research or investment advice, and is not a recommendation, offer or solicitation to buy or sell any securities or to adopt any investment strategy. The opinions expressed are as of the published date indicated on the article and may change as subsequent conditions vary. The information and opinions contained in this material are derived from proprietary and nonproprietary sources deemed by Cornerstone to be reliable, are not necessarily all inclusive and are not guaranteed as to accuracy. As such, no warranty of accuracy or reliability is given and no responsibility arising in any other way for errors and omissions (including responsibility to any person by reason of negligence) is accepted by Cornerstone, its officers, employees or agents. This material may contain 'forward looking' information that is not purely historical in nature. Such information may include, among other things, projections and forecasts. There is no guarantee that any forecasts made will come to pass. Reliance upon information in this material is at the sole discretion of the reader.

Any accounting or tax advice contained in this communication is not intended as a thorough, in-depth analysis of specific issues, nor a substitute for a formal opinion, nor is it sufficient to avoid tax-related penalties.

The information is provided solely for informational purposes and therefore should not be considered an offer to buy or sell a security. Except as otherwise required by law, Cornerstone shall not be responsible for any trading decisions or damages or other losses resulting from this information, data, analyses or opinions or their use. Please read any prospectus carefully before investing.