"Trade protection accumulates upon a single point the good which it effects, while the evil inflicted is infused throughout the mass."
- Frédéric Bastiat
For the past several months, there has been much coverage of the threat of tariffs being imposed by the United States on its trading partners. While nothing of note has been implemented yet, that will soon change. As such, we wanted to share with you some basics on this issue as we see them.
Almost no economist believes that tariffs benefit the global economy or any large subset thereof. Some specific members of an economy may profit, but free trade bolsters growth through increased commercial efficiency. Free trade as an advantage to all involved has been widely accepted economic theory since David Ricardo wrote about it in 1871.

True free trade, in its purest sense, has rarely existed throughout history. Whether the industry is agriculture, automotive, technology or others, countries – and emerging markets in particular – have long maintained protective measures (tariffs, quotas, ownership restrictions) to protect domestic businesses from foreign competition.

While tariffs are being put in place now, there is still hope that deals can be cut to avert lasting economic damage to all involved.

The use of the "National Security" clause by President Trump should not be construed literally. It is a way the President can impose trade restrictions without Congressional support.

The chart below, based on information from the Bureau of Economic Analysis and the Federal Reserve Board of Governors, shows that the United States has a two-decade long history of running a surplus with other countries for services (green line) but a deteriorating position when it comes to goods (blue line.)

The chart also shows that there is a low correlation between the strength of the U.S. dollar (in orange) and trade balances. This is important because if there were no outside forces effecting trade, the relative strength of currency would more directly impact the flow of goods between countries.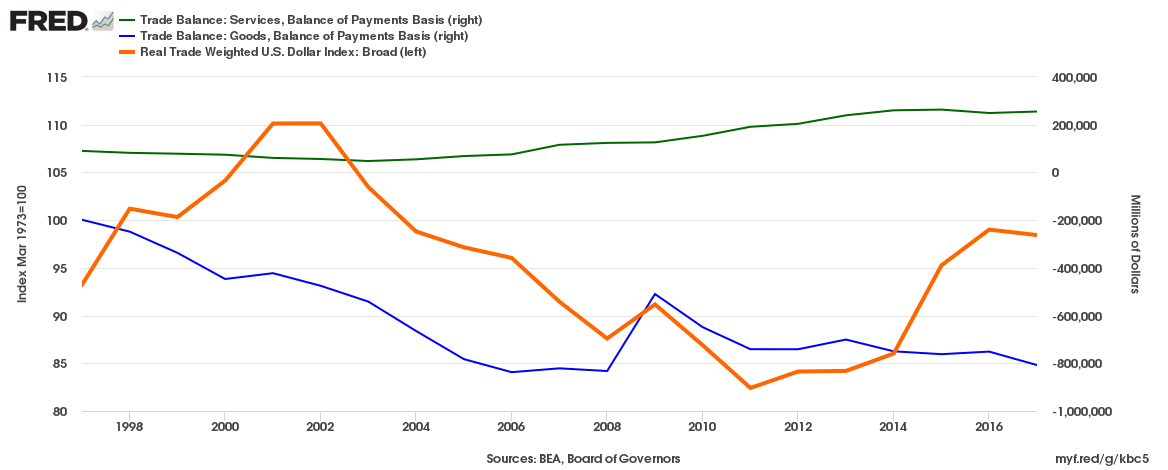 The deleterious effects of a prolonged trade war would be felt far and wide with those benefiting few and far between. While everyone, in the end, loses in such a situation based on World Bank data, the U.S. economy may be in better shape than most to withstand a prolonged dispute. Based on "Trade as a percentage of GDP"[1], our domestic economy is one of the least dependent on trade in the world. This means that we would likely be able to continue business as usual longer than other economies.
---
[1] 2016 World Bank Data. "Trade as a percent of GDP" calculated as (Imports + Exports)/GDP
---
Disclaimer Notice
This material is prepared by Cornerstone Advisors Asset Management, LLC ("Cornerstone") and is not intended to be relied upon as a forecast, research or investment advice, and is not a recommendation, offer or solicitation to buy or sell any securities or to adopt any investment strategy. The opinions expressed are as of the published date indicated on the article and may change as subsequent conditions vary. The information and opinions contained in this material are derived from proprietary and nonproprietary sources deemed by Cornerstone to be reliable, are not necessarily all inclusive and are not guaranteed as to accuracy. As such, no warranty of accuracy or reliability is given and no responsibility arising in any other way for errors and omissions (including responsibility to any person by reason of negligence) is accepted by Cornerstone, its officers, employees or agents. This material may contain 'forward looking' information that is not purely historical in nature. Such information may include, among other things, projections and forecasts. There is no guarantee that any forecasts made will come to pass. Reliance upon information in this material is at the sole discretion of the reader.

Any accounting or tax advice contained in this communication is not intended as a thorough, in-depth analysis of specific issues, nor a substitute for a formal opinion, nor is it sufficient to avoid tax-related penalties.

The information is provided solely for informational purposes and therefore should not be considered an offer to buy or sell a security. Except as otherwise required by law, Cornerstone shall not be responsible for any trading decisions or damages or other losses resulting from this information, data, analyses or opinions or their use. Please read any prospectus carefully before investing.