"I'm losing control, Boo-Boo. I don't know who's steering the ship!"
- Yogi Bear
When we started Independent Insights, we did not imagine that our first
link
back in time would be to an article we penned on June 19, 2018 about tariffs, but here we are. Over the past couple of days, the heightened tension surrounding the two largest economies of the world has been a boon to risk assets and a boom for bond investors. We still hold out hope that the mutually assured destruction of a long-lasting trade war will be averted, so we instead dedicate this issue to looking at Federal Reserve policy, which has historically served as the key factor in recessions and the resulting poor financial markets.
When we say Fed policy is the key factor in determining recession timing, we are alluding to periods during which no exogenous factors (those outside the system) come in to play, such as prolonged trade wars or other geopolitical forces. The chart below may be familiar to you, but we thought it was useful to reexamine it in light of the recent changes in Fed-speak.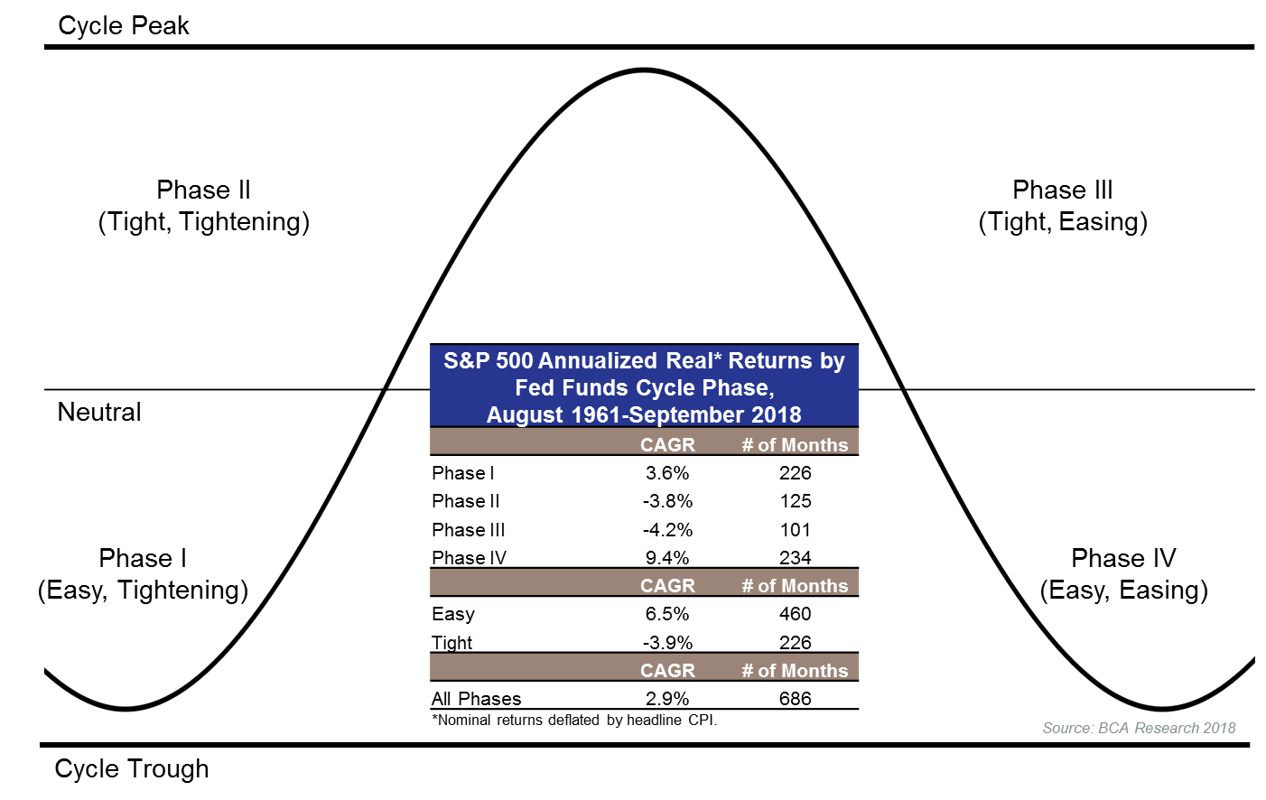 Several quarters ago, we shared with you that the Fed was in Phase I – easy money but tightening conditions. At the time, our main concern was that they would overshoot the neutral interest rate level (the level at which monetary policy is just right) and end up in Phase II, which, as the insert shows, tends to yield lackluster stock market performance. Fast forward to today, and Fed member expectations have tempered significantly. Instead of three possible rate hikes in 2019, the Fed is indicating they may do one at most. This lowered expectation has moved them more in line with the financial markets but not to the extent of the rate cut predicted by market futures.
My original thought going into this issue was to liken investors to Yogi Bear and the Fed to the Ranger, preventing Yogi from splurging on too many picnic baskets; however, it seems that the Fed has adopted the stance of Yogi and investors that of Boo-Boo. Our chief monetary authorities are facing a vexing problem: unemployment is exceedingly low, but so is inflation. For over 50 years, studies have shown an inverse relationship between these two: as unemployment drops, wages rise and inflation increases. This theory is called the Phillips Curve, and it has been proven true over and over, but it is not currently working the way one would expect[1]. Many analysts offer explanations as to why this is happening, with a recurring theme being that Amazon has broken inflation, which is a topic for another day.
The Fed's change to a dovish tone is good for risk assets, which typically do well until the Fed removes the proverbial punchbowl. If the Fed feels comfortable waiting for inflation to appear before battling it, it could remain a good time to own risk assets. But what happens if the Fed waits until it can see the whites of the eyes of inflation, and it turns out the Phillips Curve was not broken but delayed? We could see monetary policy tighten more quickly than current consensus thinking, which could derail economic growth – a jump right into Phase II, a tight economic regime. This is not necessarily our base case, but we do think it is prudent to share non-conventional ideas with you to help you frame your investment thought process.
Perhaps Yogi will be able to steer clear of his difficulties, but when you do not know who is piloting the ship, it is important to know the potential outcomes. Perhaps with a resolution to our trade conflict, the Fed will even have the opportunity to captain the boat in calm waters. Thank you, as always, for reading along with us.
---
[1] As an aside, anytime someone in my business tells you that "this time is different," it is rational to check the level left in his whiskey bottle.
---
Disclaimer Notice
This material is prepared by Cornerstone Advisors Asset Management, LLC ("Cornerstone") and is not intended to be relied upon as a forecast, research or investment advice, and is not a recommendation, offer or solicitation to buy or sell any securities or to adopt any investment strategy. The opinions expressed are as of the published date indicated on the article and may change as subsequent conditions vary. The information and opinions contained in this material are derived from proprietary and nonproprietary sources deemed by Cornerstone to be reliable, are not necessarily all inclusive and are not guaranteed as to accuracy. As such, no warranty of accuracy or reliability is given and no responsibility arising in any other way for errors and omissions (including responsibility to any person by reason of negligence) is accepted by Cornerstone, its officers, employees or agents. This material may contain 'forward looking' information that is not purely historical in nature. Such information may include, among other things, projections and forecasts. There is no guarantee that any forecasts made will come to pass. Reliance upon information in this material is at the sole discretion of the reader.

Any accounting or tax advice contained in this communication is not intended as a thorough, in-depth analysis of specific issues, nor a substitute for a formal opinion, nor is it sufficient to avoid tax-related penalties.

The information is provided solely for informational purposes and therefore should not be considered an offer to buy or sell a security. Except as otherwise required by law, Cornerstone shall not be responsible for any trading decisions or damages or other losses resulting from this information, data, analyses or opinions or their use. Please read any prospectus carefully before investing.