"There are too many of us. That's plain to see."
- Blur
For those readers who noticed that this issue of
Independent Insights
is a week late, please accept our apology and an explanation; we have been on the road the past couple of weeks meeting with clients. These meetings often have recurring themes, which we use as basis for pieces such as these. This quarter, the constant refrain from our clients has been about employment. Whether they are private companies, higher education institutions, or governmental bodies, organizations are struggling to fill positions. Corporations see decent economic activity and historically low borrowing rates, both of which encourage them to build capacity; yet, they are not aggressively investing in growth because finding qualified workers is already difficult at current output levels, much less expanded ones. There simply is a lack of supply of willing and able workers in the market.
When we have pent up (i.e. unrealized) demand for labor and a limited supply of it, one would expect the cost of labor to increase. In employment markets, this is called the Phillips Curve. The chart below showing the unemployment rate and the growth in wages indicates a strong inverse relationship between the two. When one goes up, the other goes down.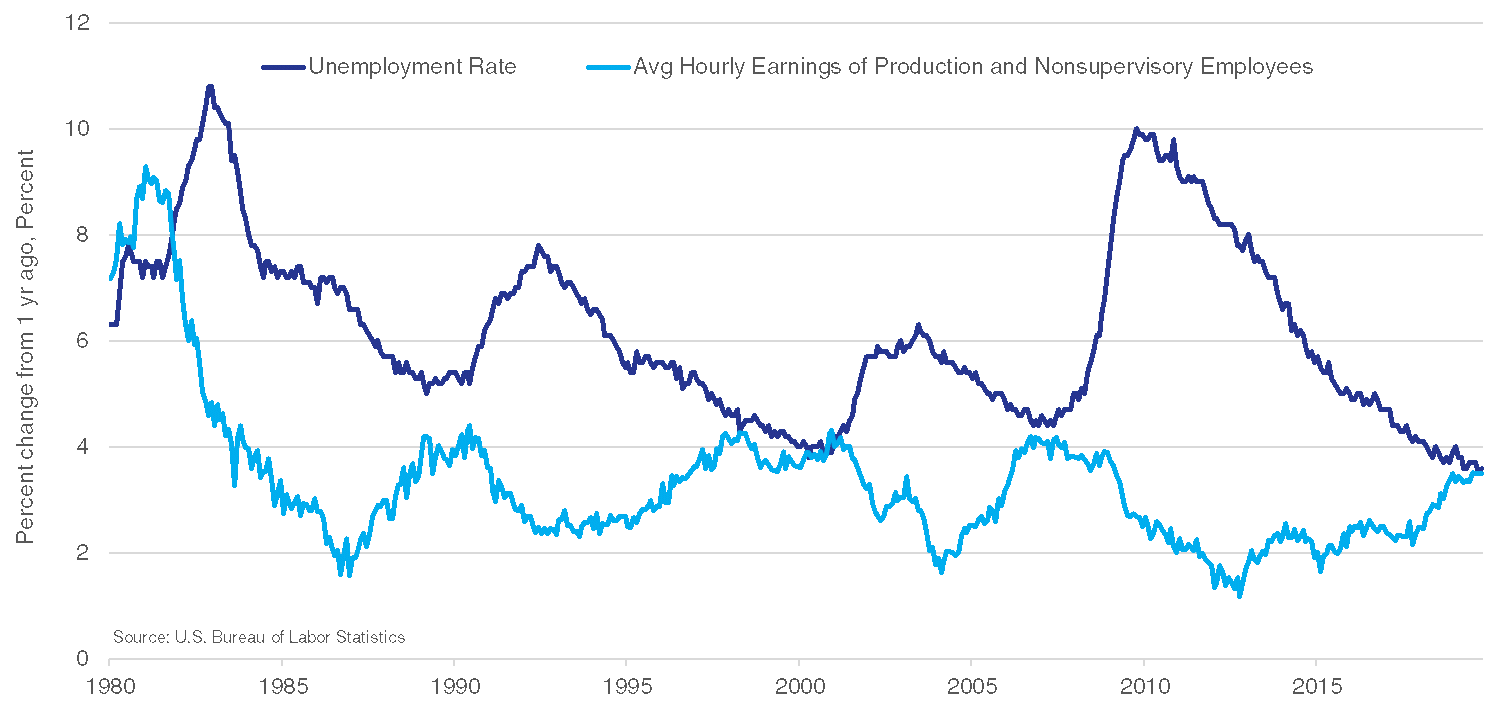 In moderation, wage growth is good for the economy. Consumer activity contributes roughly 70% to our gross domestic product, so growth is positively impacted when workers have more disposable income. However, unimpeded wage growth can become a burden to the economy and cause inflation. Inflation can be summed up as too many dollars chasing too few goods, pushing the price of those goods up.
Historically, this relationship has been a self-correcting one. Rising wages trigger inflation, which causes the Federal Reserve to raise interest rates. This slows the economy, which leads to layoffs, and thus unemployment rises and wage pressures ease. This is a painful solution to a periodic problem. However, current inflation does not seem like a pressing issue, and the economy is hovering around stall speed, rather than overheating, giving the Federal Reserve good reason for not raising rates.
Since we would prefer not to have the demand side slacken due to recession, how can one fix the supply of labor? We either need to add more people, or our current stock of people must become more productive. Immigration reform is always a hot button political issue, but even if the US was to open its borders, the relief would be temporary. There are demographic challenges around the world; according to the United Nations'
World Population Prospects 2019
, the annual global population growth rate will slow from about 1% today to 0% by the end of the century. Short of a baby boom in the next several decades, the workforce will continue to age, and immigration will become a zero-sum game between different countries.
The likely solution to this problem is increasing the productivity of workers through technology. If the same number of workers can produce significantly more goods for consumption, perhaps the Phillips Curve can be broken in a good way. Unemployment could stay low and wages could increase at respectable rates, but inflation could be held at bay. For the sake of brevity, we will leave that conversation for another day. There are concerns about robots replacing workers in the long-run. Those are not unfounded; however, given the dynamics of the labor market, some level of displacement is required. Humans have been adjusting to technological changes since before the Luddites and will likely do so again. Remember, if 40 years ago, I told you that I would send you an email with a calendar invite to a Skype discussion about driverless cars, your first question likely would have been, "what's an email?"
We wish you all a wonderful holiday season and look forward to sharing some year-end insights with you in the coming weeks. Please do not hesitate to let us know if you have any thoughts or questions.
---
Disclaimer Notice
This material is prepared by Cornerstone Advisors Asset Management, LLC ("Cornerstone") and is not intended to be relied upon as a forecast, research or investment advice, and is not a recommendation, offer or solicitation to buy or sell any securities or to adopt any investment strategy. The opinions expressed are as of the published date indicated on the article and may change as subsequent conditions vary. The information and opinions contained in this material are derived from proprietary and nonproprietary sources deemed by Cornerstone to be reliable, are not necessarily all inclusive and are not guaranteed as to accuracy. As such, no warranty of accuracy or reliability is given and no responsibility arising in any other way for errors and omissions (including responsibility to any person by reason of negligence) is accepted by Cornerstone, its officers, employees or agents. This material may contain 'forward looking' information that is not purely historical in nature. Such information may include, among other things, projections and forecasts. There is no guarantee that any forecasts made will come to pass. Reliance upon information in this material is at the sole discretion of the reader.

Any accounting or tax advice contained in this communication is not intended as a thorough, in-depth analysis of specific issues, nor a substitute for a formal opinion, nor is it sufficient to avoid tax-related penalties.

The information is provided solely for informational purposes and therefore should not be considered an offer to buy or sell a security. Except as otherwise required by law, Cornerstone shall not be responsible for any trading decisions or damages or other losses resulting from this information, data, analyses or opinions or their use. Please read any prospectus carefully before investing.