"Begin the unnecessarily slow-moving dipping mechanism!"
- Dr. Evil, Austin Powers
Stall speed is the slowest speed a plane can fly while maintaining level flight. I cannot imagine that pilots maintain this velocity for long since the margin for error is thin before their aircraft tumbles out of the sky. Like pilots, economists disdain slow growth. Inflation-adjusted growth rates above 2% - 3% are favored targets for policy makers. It gives them breathing room should the unforeseen happen, whether that is a policy error or a macroeconomic shock. The countries in green in the chart below, found mainly in Asia and Eastern Europe, are the only ones currently posting growth above 2.5%. The good news is that few nations are experiencing recession (i.e. negative growth rates).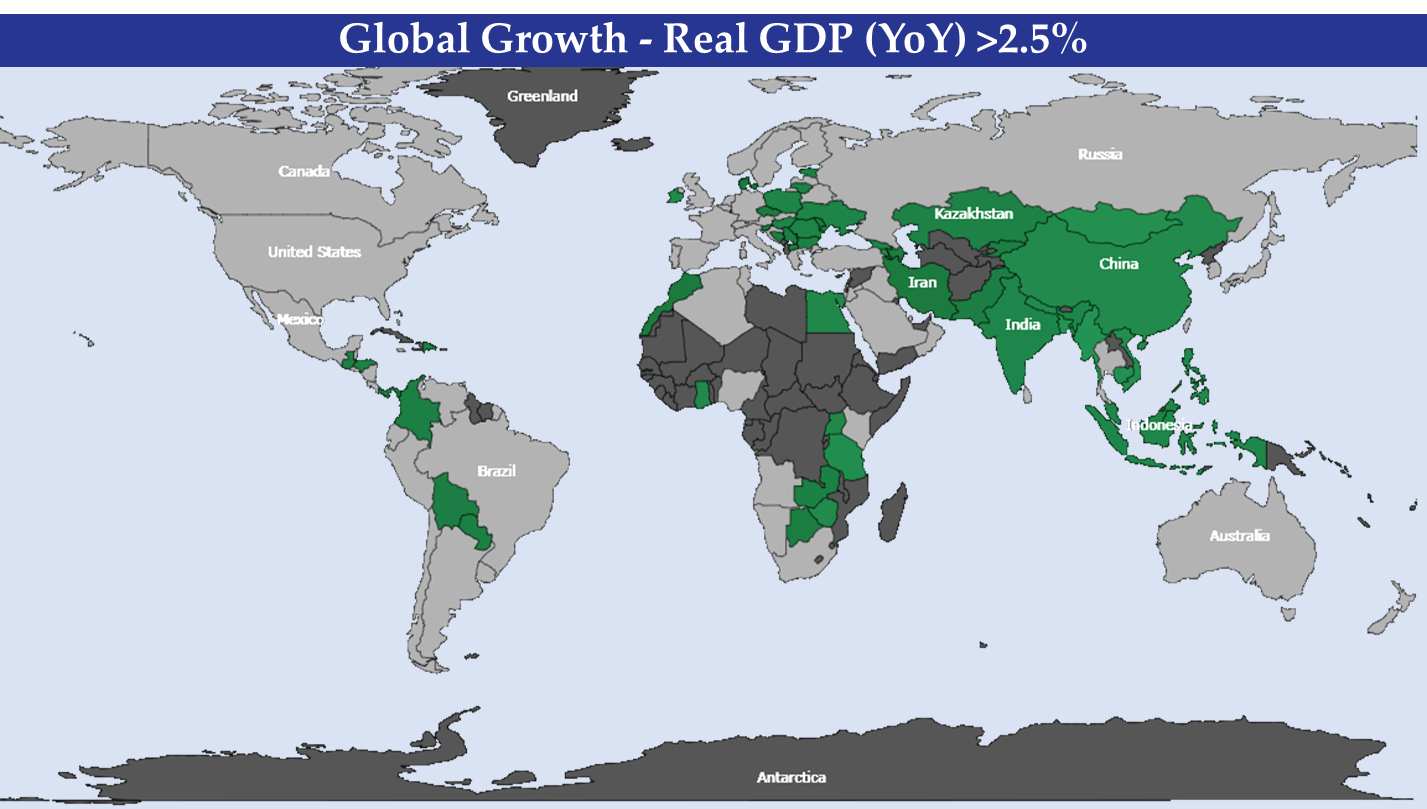 Map: Countries highlighted in green have year-over-year real GDP growth greater than 2.5% as of 10/29/19. Source: Bloomberg
What are some mechanisms that could kick start more robust growth? Fiscal policy, monetary strategy, or increased consumerism. Gross Domestic Product's equation is fairly simple (and one we have shared with you before):
Global GDP = Consumption + Business Investment + Government Spending
Let us look at each component, starting at the end:
Government Spending
– While our government is running close to trillion-dollar deficits, many foreign countries are loath to spend more than they take in. For example, Germany, which is on the cusp of a recession, refuses to use fiscal stimulus to prop up their economy, and this from a country that borrows at negative interest rates. Our deficit is helping to maintain our current growth trajectory, but the likelihood of further stimulus (i.e. infrastructure) in today's political climate is virtually nil.
Expected Impact of Growth
: At best, a modest positive.
Business Investment
– The Fed is likely to cut rates again this week. More than 30 central banks have done the same this year. Monetary policy does not directly impact economic growth, but it can bolster the optimism of businesses, which is directly correlated to their investment appetite. At some point, however, the effects of interest rate cuts have a diminishing return. Companies are not avoiding new capital projects because of financing costs; rather, they are just not confident that the capital projects will pay off in languishing economic conditions.
Expected Impact on Growth
: Likely supportive, but not a driving force of growth. Several of my colleagues remind me that the central banks could develop novel policies to stimulate activity, but they have not yet shown an inclination towards doing so.
Consumption
– This is where things start looking up. Consumers make up roughly
70% of our economy
. Real income growth in the United States is positive all along the wage scale. According to the Fed, household debt service is at its lowest levels on record*.
Expected Impact on Growth
: The consumer is strong and appears to have the ability to stimulate the economy. Consumer spending has a positive feedback loop on business investment.
Why do we care so much about the economy rather than focusing on financial markets? It is difficult to make a logical argument for strong stock market returns in a stagnant economy because corporate profit growth (and thus the underlying valuation of companies) cannot forever stay disconnected from economic growth. If the economy is not growing, then the pot of potential profits is pinned to current levels. According to Standard & Poor's, corporate profit growth will be weak over the coming quarters; however, a strong consumer may serve as a throttle to pull the economy to a more sustainable speed. It is important to remember that economic expansions do not die of old age but can be killed with relative ease when the buffer between expansion and recession is so slim.
---
*Board of Governors of the Federal Reserve System (US), Household Debt Service Payments as a Percent of Disposable Personal Income [TDSP], retrieved from FRED, Federal Reserve Bank of St. Louis; https://fred.stlouisfed.org/series/TDSP, October 28, 2019.
---
Disclaimer Notice
This material is prepared by Cornerstone Advisors Asset Management, LLC ("Cornerstone") and is not intended to be relied upon as a forecast, research or investment advice, and is not a recommendation, offer or solicitation to buy or sell any securities or to adopt any investment strategy. The opinions expressed are as of the published date indicated on the article and may change as subsequent conditions vary. The information and opinions contained in this material are derived from proprietary and nonproprietary sources deemed by Cornerstone to be reliable, are not necessarily all inclusive and are not guaranteed as to accuracy. As such, no warranty of accuracy or reliability is given and no responsibility arising in any other way for errors and omissions (including responsibility to any person by reason of negligence) is accepted by Cornerstone, its officers, employees or agents. This material may contain 'forward looking' information that is not purely historical in nature. Such information may include, among other things, projections and forecasts. There is no guarantee that any forecasts made will come to pass. Reliance upon information in this material is at the sole discretion of the reader.

Any accounting or tax advice contained in this communication is not intended as a thorough, in-depth analysis of specific issues, nor a substitute for a formal opinion, nor is it sufficient to avoid tax-related penalties.

The information is provided solely for informational purposes and therefore should not be considered an offer to buy or sell a security. Except as otherwise required by law, Cornerstone shall not be responsible for any trading decisions or damages or other losses resulting from this information, data, analyses or opinions or their use. Please read any prospectus carefully before investing.