"It is far more important to me to preserve an unblemished conscience than to compass any object however great."
- William Ellery Channing
We gave Kevin last week off, so he asked Ryan Wood, CFA, one of Cornerstone's principals and senior investment analysts, to craft this week's Independent Insights.
Socially responsible investing; environmental, social and governance (ESG) investing; impact investing. Many use these terms interchangeably, but each represents a different approach to a single core idea – investments that align with beliefs. These forms of responsible investing incorporate ideals into investment strategies.
Rooted in the 1970s, interest in responsible investing has been on the rise in recent years. According to a 2018 study, the incorporation of responsible investing and shareholder advocacy into professional asset management has increased 38% since 2016. [1] Today's movement is largely led by the United Nations' Principles for Responsible Investment, which has over 2,300 signatories committed to supporting responsible investing. The increasing popularity of responsible investing has caused a proliferation of new investment products, allowing access to ordinary investors. Wall Street will always create product to meet market demand.
To lump all forms of responsible investing into a single group would be misleading; responsible investing can be implemented across a spectrum ranging from negative screens to targeted, outcomes-focused investing. The graphic below outlines some of the highlights of the different strategies.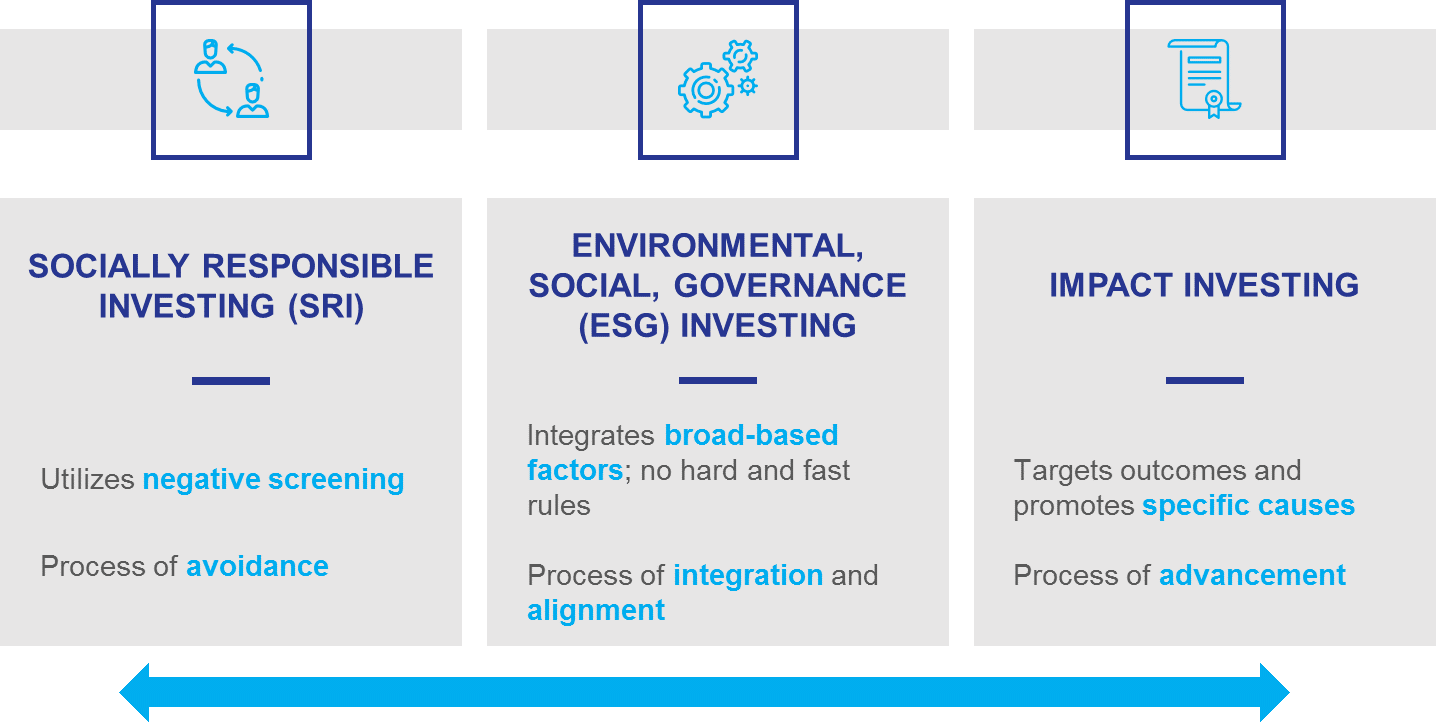 Let us envision an investor whose chief concern is the impact of fossil fuels on the environment. The investment strategy used to address this concern would vary based on the type of responsible investing utilized. Some examples of implementation could include:
SRI: Divest assets from companies involved in the production of fossil fuels.
ESG: Selectively invest only in fossil fuel producers with a strong program to alleviate their impact on the environment.
Impact investing: Invest in companies or specific projects dedicated to developing sustainable energy.

Oftentimes, individuals can outline the causes most important to them and implement a strategy to fit their needs; however, the wide range of issues important to stakeholders at say, a college, is more difficult to define and invest within. SRI and impact investing are easier to monitor than ESG. You are either avoiding bad companies or are investing in good ones. ESG, by its very nature, assigns numbers and ranks to different complex inputs. There is not one widely accepted methodology for this type of investing. At the end of the day, investors must also be able to trust the reporting that companies provide. Sometimes companies fail that requirement. Recently, investors have seen
Volkswagen
and
Wells Fargo
misinform their shareholders. Then again, sometimes those entrusted with the rankings system have their own failures (see
Vanguard's
ESG fund mistakenly purchasing gun manufacturer and private prison operator stocks.)
Given the complexities involved in implementing a responsible investing strategy, heightened due diligence is a key component of integrating such a mandate. As responsible investing moves from a niche marketplace to a more mainstream audience, we continue to monitor strategies, engage in discussions with money managers and industry specialists, evaluate new trends, and keep our clients abreast of the latest developments.
In closing, we would like to take a moment to congratulate two of our investment analysts, Derek Schwartz and Samantha Yu, on passing the CFA Level III and Level II exams, respectively. As always, we thank you for reading this issue of Independent Insights, and we hope you and yours had a happy and relaxing summer.
---
[1] USSIF, 2018 Report on US Sustainable, Responsible, and Impact Investing Trends
---
Disclaimer Notice
This material is prepared by Cornerstone Advisors Asset Management, LLC ("Cornerstone") and is not intended to be relied upon as a forecast, research or investment advice, and is not a recommendation, offer or solicitation to buy or sell any securities or to adopt any investment strategy. The opinions expressed are as of the published date indicated on the article and may change as subsequent conditions vary. The information and opinions contained in this material are derived from proprietary and nonproprietary sources deemed by Cornerstone to be reliable, are not necessarily all inclusive and are not guaranteed as to accuracy. As such, no warranty of accuracy or reliability is given and no responsibility arising in any other way for errors and omissions (including responsibility to any person by reason of negligence) is accepted by Cornerstone, its officers, employees or agents. This material may contain 'forward looking' information that is not purely historical in nature. Such information may include, among other things, projections and forecasts. There is no guarantee that any forecasts made will come to pass. Reliance upon information in this material is at the sole discretion of the reader.

Any accounting or tax advice contained in this communication is not intended as a thorough, in-depth analysis of specific issues, nor a substitute for a formal opinion, nor is it sufficient to avoid tax-related penalties.

The information is provided solely for informational purposes and therefore should not be considered an offer to buy or sell a security. Except as otherwise required by law, Cornerstone shall not be responsible for any trading decisions or damages or other losses resulting from this information, data, analyses or opinions or their use. Please read any prospectus carefully before investing.