"With Beanie Babies, most of the lasting personal fortunes came from selling books and tag protectors, not from speculating in plush." Zac Bissonette
Editor's Note: We are pleased to release our second issue of IQubed, penned by our colleague, Ryan Wood, CFA. In this article, he reminds investors that the most important benchmark is long-term goal achievement. We thought it dovetails nicely into this article. To read it, please click
here
.
---
As a note, I began this issue of Independent Insights about a week ago and put it aside to tend to some other projects. Perhaps that delay will make our words all the more relevant today.
If you are an investment professional and have an email string of friends outside the business, 2020 was probably interesting, disconcerting, mind-numbing, or some mixture of them all. In February, you heard many stories regaling you about the supremacy of cash. By July, some of those same commenters bought all the Tesla, Carnival Corp., and small-cap Chinese stocks they could afford. Come October, these investments were blasé, and in came Bitcoin, the prices of which seemed to defy gravity. Now that crypto is old news, queries regarding video game stores, movie theaters, and candy makers are inbound. Amazingly, the timing of these trades never seems to be wrong.
Jeremy Grantham, a renowned investor, recently wrote an article in which he described a portion of the stock market as being so overvalued as to warrant the label of a bubble. He was humble (or wily) enough to mention that timing the bursting of such a scenario is not easy. Why is it so hard to call the end of a bubble? Because valuations can feel stretched for a long time before the music falls silent on the game of "the biggest fool." As long as speculators are not holding the overpriced assets when the game ends (i.e., there is no bigger fool to buy the asset at a higher price), then they win. On paper, this is a genius tactic, and since it is human nature to overestimate one's own ability, you obviously will never be the biggest fool, right?
On the sideline opposite those risk-takers sit the contrarians, so squeamish about today's valuations as to remain in cash until the bubble does burst. As the price for risk assets continues to climb, they have conflicting feelings – the fear of missing out versus the fear of being the biggest fool. If those who are piling into risky trades may face an Icarus-like crash back to Earth, then those on the sidelines can feel as though they sit under the sword of Damocles. They look at the chart below and feel confident that these stocks will eventually drop precipitously; however, it is painful to wonder whether we are in late 1719 and there is still money to be made. The siren's song of the biggest fool is a strong one.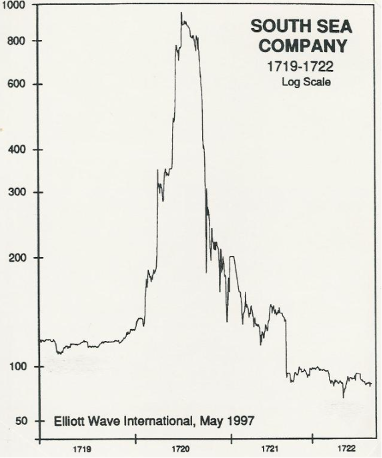 So, what is a long-term investor to do? Should she pile into these crowded trades or sit out until prices feel more sustainable? We would say that they should do neither. An architect that thoughtfully plans a building likely does not redesign the third floor on a whim. A dentist does not extract an extra tooth on a gut feeling. Prepared investors have long-term plans that envision periods of exuberance and periods of dismay. Stock markets do not go straight up but have historically trended higher over time. Entry and exit points are important in the short-term and psychologically, but the plan is paramount. If you have a dollar-cost averaging strategy to get into the market, follow it. If you are overweight to risky assets versus your plan, consider rebalancing. Remember that timing the market requires an investor to be correct twice: when to buy and when to sell. Timing one of them perfectly is amazing luck; getting both of them spot on is fantasy.

Back in the late 1990s, my emails were full of people who just knew that AOL, Yahoo!, and pets.com were going to make investors rich. And they did. For a while. At this point, the battle between Reddit and Wall Street is interesting but not impactful on a large scale. I am confident that the biggest fool in this game will eventually lose money, but if Jeremy Grantham cannot tell you when that will be, I for sure cannot either. We do believe that there are still pockets of risk assets which seem reasonably priced. Pairing that with accommodative fiscal and monetary policy may help avert a market-wide meltdown, but again, if you have your plan and are following it, in the long run, you should be able to sleep well at night. It may feel really boring, but boring is more sustainable than speculating in the plush.

Thanks for reading this issue of Independent Insights. We here at Cornerstone are always ready and willing to discuss your financial situation.
---
Disclaimer Notice
This material is prepared by Cornerstone Advisors Asset Management, LLC ("Cornerstone") and is not intended to be relied upon as a forecast, research or investment advice, and is not a recommendation, offer or solicitation to buy or sell any securities or to adopt any investment strategy. The opinions expressed are as of the published date indicated on the article and may change as subsequent conditions vary. The information and opinions contained in this material are derived from proprietary and nonproprietary sources deemed by Cornerstone to be reliable, are not necessarily all inclusive and are not guaranteed as to accuracy. As such, no warranty of accuracy or reliability is given and no responsibility arising in any other way for errors and omissions (including responsibility to any person by reason of negligence) is accepted by Cornerstone, its officers, employees or agents. This material may contain 'forward looking' information that is not purely historical in nature. Such information may include, among other things, projections and forecasts. There is no guarantee that any forecasts made will come to pass. Reliance upon information in this material is at the sole discretion of the reader.

Any accounting or tax advice contained in this communication is not intended as a thorough, in-depth analysis of specific issues, nor a substitute for a formal opinion, nor is it sufficient to avoid tax-related penalties.

The information is provided solely for informational purposes and therefore should not be considered an offer to buy or sell a security. Except as otherwise required by law, Cornerstone shall not be responsible for any trading decisions or damages or other losses resulting from this information, data, analyses or opinions or their use. Please read any prospectus carefully before investing.