"Sooner or later everyone sits down to a banquet of consequences." Robert Louis Stevenson
Fast forward to springtime 2023. The pandemic is largely in the rearview mirror. People, after suffering through an extended period of lockdown, are feeling cabin fever the likes of which have not been seen since the end of World War II rationing. Most people agree that the federal government and Federal Reserve reacted rationally, the first spending unfathomable amounts to keep the economy afloat during the shutdown, and the latter monetizing the debt. The government spent trillions more than planned over 2 years, and the Fed bought that debt by printing money that until now just sloshed around the banking system causing some unintended consequences in the financial markets (remember GameStop), but the majority of the cash sat in the bank accounts of normal people who could not spend it. There was no place to do so.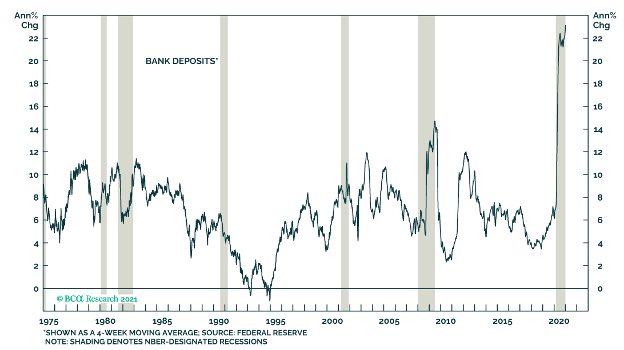 Now, that inability to spend has passed. People are going out and spending money to buy things. The economy is growing at a supercharged 4% annually. Unemployment is not down to 2019 levels, but it is trending that way. The Biden administration is diverting the money that heretofore was spent on pandemic relief to achieve the social changes for which more progressive members of his party are clamoring. The Federal Reserve, having not yet achieved its goal of an average of 2% inflation annually, sits on the sideline, keeping rates low through mandate and monetization. Pundits claim that this is demand delayed, not demand destroyed. The economy is bruised but not permanently scarred.

Money and credit are easy. The markets are rising to all-time highs in response to record corporate earnings. It is, in fact, the Roaring 20s all over again. In short, the government's intervention has succeeded, perhaps beyond all expectations.

But below the radar, the Fed is concerned. They are pushing all the levers available to them to keep the long end of the interest rate curve low, but it is getting more difficult. They know that inflation does not gently rap on the door, it kicks it down. Now that inflation is here, the Fed must raise rates quickly to combat it. The economy reacts as it has historically, and a recession is now upon us. But now we also have the issue that interest rates are higher, and the cost of all of this government debt is skyrocketing. This is not the type of banquet we were hoping for.

Whether it is herd immunity or just people giving up on distancing, COVID restraints will pass. People will fatigue of not being able to go to a ballgame, a bar or a ballet. The above dramatization is not our expectation at this point, but we do think that investors should be aware that the interventions of the past 20 years may eventually come with a price. As history has taught us, trends tend to revert to the mean at some point. The past decade of strong domestic equity returns compared to international stocks, a huge technology stock rally and strong bond returns will likely ebb at some point. Is your portfolio positioned for such changes if they occur?

Our hope is that the Fed manages to unwind its holdings with low impact on the economy, and the Federal government regains some sense of normalcy in spending so that the party can continue forward, but as we have mentioned many times, hope is not a strategy. As always, we appreciate your feedback.
---
Disclaimer Notice
This material is prepared by Cornerstone Advisors Asset Management, LLC ("Cornerstone") and is not intended to be relied upon as a forecast, research or investment advice, and is not a recommendation, offer or solicitation to buy or sell any securities or to adopt any investment strategy. The opinions expressed are as of the published date indicated on the article and may change as subsequent conditions vary. The information and opinions contained in this material are derived from proprietary and nonproprietary sources deemed by Cornerstone to be reliable, are not necessarily all inclusive and are not guaranteed as to accuracy. As such, no warranty of accuracy or reliability is given and no responsibility arising in any other way for errors and omissions (including responsibility to any person by reason of negligence) is accepted by Cornerstone, its officers, employees or agents. This material may contain 'forward looking' information that is not purely historical in nature. Such information may include, among other things, projections and forecasts. There is no guarantee that any forecasts made will come to pass. Reliance upon information in this material is at the sole discretion of the reader.

Any accounting or tax advice contained in this communication is not intended as a thorough, in-depth analysis of specific issues, nor a substitute for a formal opinion, nor is it sufficient to avoid tax-related penalties.

The information is provided solely for informational purposes and therefore should not be considered an offer to buy or sell a security. Except as otherwise required by law, Cornerstone shall not be responsible for any trading decisions or damages or other losses resulting from this information, data, analyses or opinions or their use. Please read any prospectus carefully before investing.