"The safe way to double your money is to fold it over once and put it in your pocket." Kim Hubbard
Before I agreed to write Independent Insights several years ago, I asked for editorial latitude on topics. Cornerstone's Lead Team may reconsider that permission after this edition, but we are going to try to have some fun to close out this cold, snowy winter. As this story unwinds, rest assured that our team of investment professionals works each day to avoid the same mistakes for your assets that I made with mine.

A couple of weeks ago, I had an unexpected meeting on my calendar that was titled "Friendly Bet for Lunch". I had not the foggiest idea what that meant so I opened it. Then I let out a groan. The body of the invite read:

"On this day 5 years ago Karpuk predicted that the Fed would not have moved rates by more than ¼ of a percent in any given period…"

It dawned on me that this was a legitimate wager from 2016. I had made a pronouncement at an Investment Policy Committee meeting with absolutely too much certainty, and one of my teammates had called me out on it. I remember being sure that there was no way the Fed was going to be able to raise rates more than 25 basis points at a time in the next five years given the economic malaise in which we were trapped.

I made so many behavioral economics mistakes in this bet that it is tough to decide where to start picking them apart, so let us begin with the bolded words above. With short-term rates set around 0.5% at the time, I was anchored to that number and did not take a rate cut of more than 25 basis points into consideration. The Fed was loath to bring rates negative so cutting to zero in one move did not seem feasible to me. I was stuck in a current perspective and did not conceive of the future being any different. I failed to realize that five years is a long time.

A Timeline of a Near Miss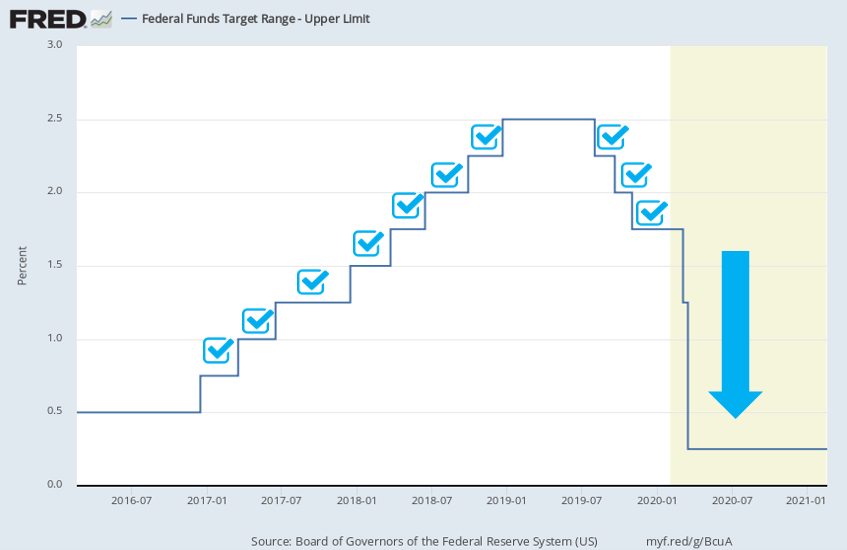 Mistake number 2? I left my counterparty with all of the optionality. I had a very tight window to win and a very wide one to lose. I painted myself into a corner since, as history proved, I could be right for 80% of the time and still lose. He only had to be right once. What was I thinking taking this wager in which I had a tight binary outcome without demanding a better payoff profile?

However, my biggest mistake, from my vantage point, is that I failed to monitor this bet. Sure, it was just a lunch, but if I had been thinking about this along the way and saw how much room rising interest rates had created for a previously dismissed outcome to occur, I could have settled up for an adult beverage that would have cost significantly less than a lunch. I did not cut my losses when it was possible.

My overconfidence, lack of clarity on the payoff, and failure to monitor my downside risk all worked against me. This is a common mix of behavioral miscues faced by investors who stray from their long-term plan. It is easy to fall into traps such as these. There is a lot of research saying that we are hard wired to do so and avoiding these pitfalls is harder than it sounds. If an opportunity arises for you that is so appealing that the terms, "slam dunk", "no brainer", or "mortal lock" dance around your head, you may want to think about these frequent mistakes and make sure you calibrate your risk and return and take a second to question just how confident you are that the future will not be significantly different than today.

So, I learned my lesson, a little, about long tailed bets, but it could have been worse. What I did not share until now was the part of the wager found on the right side of the ellipses of the quote above.

"On this day 5 years ago… If Kevin is right, [Coworker] owes him lunch at a local pizza shop. If [Coworker] is right, Karpuk owes him lunch at Sizzler."

Unfortunately for Sizzler fans, it was a victim of the pandemic, but fortunately for me, I cannot pay off this friendly wager. [Coworker's] name has been redacted to prevent any harsh judgements based on his lunch preferences.

I would like to say that I will remember the lessons learned next time I am overcome with hubris, and maybe I will, but my teammates are not paid to keep me from silly little wagers. They are trained and committed to challenging each other to prevent these behavioral biases from slipping into our investment decision making. We know to question and to probe and to make the most informed decisions possible at any given time while still having flexibility to course correct if necessary.

Thanks, as always for taking time to read this article. We hope you found it entertaining. If you reach out, we will certainly share [Coworker's] identity.
---
Disclaimer Notice
This material is prepared by Cornerstone Advisors Asset Management, LLC ("Cornerstone") and is not intended to be relied upon as a forecast, research or investment advice, and is not a recommendation, offer or solicitation to buy or sell any securities or to adopt any investment strategy. The opinions expressed are as of the published date indicated on the article and may change as subsequent conditions vary. The information and opinions contained in this material are derived from proprietary and nonproprietary sources deemed by Cornerstone to be reliable, are not necessarily all inclusive and are not guaranteed as to accuracy. As such, no warranty of accuracy or reliability is given and no responsibility arising in any other way for errors and omissions (including responsibility to any person by reason of negligence) is accepted by Cornerstone, its officers, employees or agents. This material may contain 'forward looking' information that is not purely historical in nature. Such information may include, among other things, projections and forecasts. There is no guarantee that any forecasts made will come to pass. Reliance upon information in this material is at the sole discretion of the reader.

Any accounting or tax advice contained in this communication is not intended as a thorough, in-depth analysis of specific issues, nor a substitute for a formal opinion, nor is it sufficient to avoid tax-related penalties.

The information is provided solely for informational purposes and therefore should not be considered an offer to buy or sell a security. Except as otherwise required by law, Cornerstone shall not be responsible for any trading decisions or damages or other losses resulting from this information, data, analyses or opinions or their use. Please read any prospectus carefully before investing.