"I was happier with you."
- Ed Sheeran
A buddy of mine texted me last Friday night to ask if I knew that my wife has some unclaimed property held by the state of Pennsylvania. Sheer lockdown boredom led him to unintentionally uncover a nerdy little secret I have. Every year I look to see if my family and/or friends have escheated cash or other goodies with the state. If you bear with us, we will provide links for you to check your own status below.
Escheatment has a history that goes back at least 1,000 years. The origins of the word (escheat means to fall-out) meant that the property would fall out of the possession of a family if unclaimed by an heir. Back then if this happened, the land would be forfeited to the King to prevent it from hanging in limbo. The King could then resell the property to ensure the field's productive continuity.
In today's world, escheatment occurs when companies owe a person money but cannot locate them. Financial institutions, utilities, governments and other businesses must file reports with the state for abandoned property. After a certain amount of time, these companies must turn over these assets to the state. The good news is that the state never takes ownership of the assets. The state Treasurer safekeeps them until a properly identified claimant steps forward. Pennsylvania does not charge fees on these assets or the reclamation thereof.
Being as bored as my friend that Friday evening, I began randomly entering names and found many individuals, organizations and even governmental units have assets that lay unclaimed. One of the more noteworthy hits I found was the Philadelphia Electric Company
1
. I mention this because Philadelphia Electric Company became PECO in 1994 and then Exelon in 2000. It boggles my mind that Philadelphia's electricity provider can be considered difficult to find. When I add various versions of the name, the total number of hits reaches the hundreds. I will not even delve into the number of search returns that come from departments of the state government itself.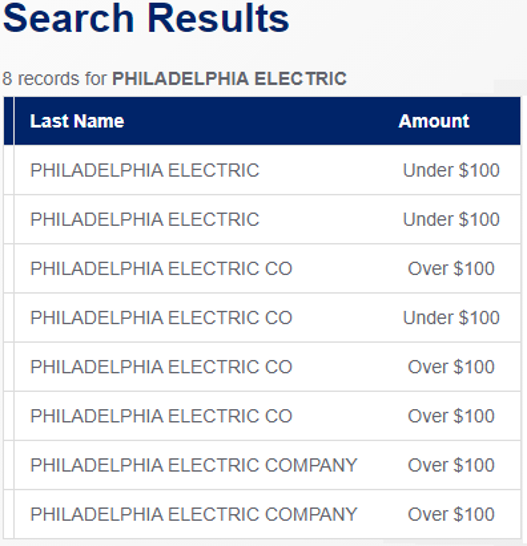 I do not want to imply that everyone has escheated assets, but in times like this, every little bit helps. Even if you find a couple of hundred dollars, perhaps it can fund the
$300 Universal Charitable Deduction authorized in the CARES Act
. I would imagine that your favorite not-for-profit would appreciate it. As a note to not-for-profits, you too may have unclaimed assets, so you should run a check to see if there is anything out there for you.
As promised, the links to PA, NJ and NY can be found below. A suggestion would be to search as widely as possible – maiden name, initials, etc. I am sure your unclaimed assets will be happier with you.
The web address for Pennsylvania can be found
here
. For those in New Jersey,
here
. And for our friends in New York, you can click
here
. We would love to hear from you if you found this helpful and reclaimed some long-lost assets. If you wanted to share your experience, please drop us a line. Stay safe, and we look forward to when we can all meet up again.
---
1
In full transparency, my father works at Exelon and has done so for over 50 years. If he gets a bonus for my sleuthing, I will certainly claim my share.
---
Disclaimer Notice
This material is prepared by Cornerstone Advisors Asset Management, LLC ("Cornerstone") and is not intended to be relied upon as a forecast, research or investment advice, and is not a recommendation, offer or solicitation to buy or sell any securities or to adopt any investment strategy. The opinions expressed are as of the published date indicated on the article and may change as subsequent conditions vary. The information and opinions contained in this material are derived from proprietary and nonproprietary sources deemed by Cornerstone to be reliable, are not necessarily all inclusive and are not guaranteed as to accuracy. As such, no warranty of accuracy or reliability is given and no responsibility arising in any other way for errors and omissions (including responsibility to any person by reason of negligence) is accepted by Cornerstone, its officers, employees or agents. This material may contain 'forward looking' information that is not purely historical in nature. Such information may include, among other things, projections and forecasts. There is no guarantee that any forecasts made will come to pass. Reliance upon information in this material is at the sole discretion of the reader.

Any accounting or tax advice contained in this communication is not intended as a thorough, in-depth analysis of specific issues, nor a substitute for a formal opinion, nor is it sufficient to avoid tax-related penalties.

The information is provided solely for informational purposes and therefore should not be considered an offer to buy or sell a security. Except as otherwise required by law, Cornerstone shall not be responsible for any trading decisions or damages or other losses resulting from this information, data, analyses or opinions or their use. Please read any prospectus carefully before investing.