"Success isn't always about greatness. It's about consistency."
- Dwayne Johnson
In our last
Independent Insights
, we discussed how short-term performance feeds into longer-term outcomes. What we did not provide is a way for investors to think about performance over time, nor did we discuss the role consistency of process plays in an investment program. One lens an investor can use for both ideas is batting average, an idea borrowed from baseball which measures the percentage of times a manager outperforms his/her benchmark. Market timing, as we know, is a fool's errand, but it is also human nature. What happens when we overcome the urge to "do something" and instead commit to a constant investment plan?
Instead of using specific managers, we looked at investment "factors" (high dividend, momentum, quality, and value, as defined by MSCI) and compared them to the MSCI USA Index[1] over the past 40 years. Over one- and three- year periods, each of these factors have been the worst performing group, but each has also been at the top of the rankings at different periods.
One might think that since the factors include only constituents of the MSCI USA Index, the index would hover around the median performance of the factors over the long-term; however, that turns out not to be the case. In fact, if an investor would have chosen any one factor forty years ago and held it for the duration, he/she would have outperformed the broader benchmark. In the chart below, we have assumed nothing more than an investor staying the course for forty years.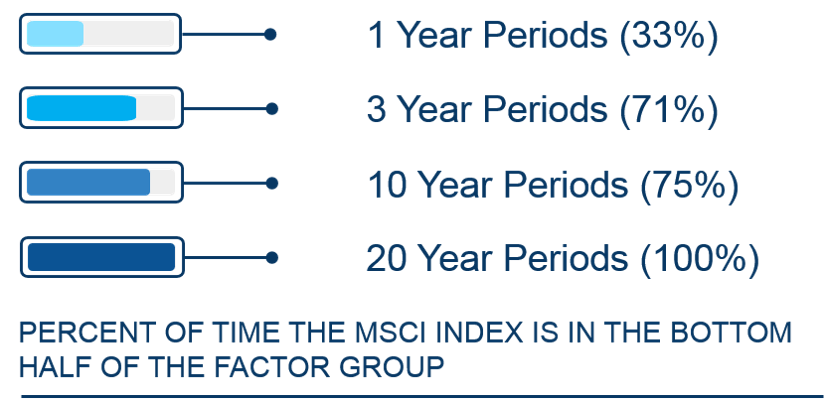 Over one-year periods, the classic "random walk down Wall Street" is being exhibited, where owning the whole market looks to be a superior investment strategy; however, there has only been one decade in the past forty years in which the total index was not the worst performing choice of the five provided. Applying a consistent investment strategy has worked if an investor has a time horizon of such length. There are other factors such as minimum volatility and equal weighting whose theses are sound but were not included due to shorter historical data streams.
Of course, returns are only half of the investment equation. A prudent investment fiduciary acknowledges that risk is equally important. How much volatility is assumed to achieve the rate of return informs an investor as to whether value is being added or whether unwanted risk is being introduced into the portfolio. No one controls returns in the capital markets, but investors can understand the source of returns to help decision making. As a note, the MSCI USA Index also winds up at the bottom of the list when compared to the factors on a risk-adjusted basis (Sharpe ratio) over 20 and 40-year periods.
We do not wish to imply that there is one right way to invest because there is not. Different time horizons, cashflow needs, and goals make that impossible, but we do strongly advocate for the idea that if you are thoughtful in the initial design and due diligence of portfolio implementation, significant alterations within the portfolio should be rare and driven by changing needs rather than emotions.
As always, thank you for taking the time to read this version of Independent Insights. Cornerstone was recently ranked the seventh best independent consultant in America on
Barron's 2019 Top 50 Institutional Consultants
list[2]. As such, my colleague, Samantha Yu and I will be attending a summit in New York this week. We will share insights from the conference in coming issues.
---
[1] The MSCI USA Index is designed to measure the performance of the large and mid cap segments of the US market. With 623 constituents, the index covers approximately 85% of the free float-adjusted market capitalization in the US.
[2] The Barron's 2019 Top 50 Institutional Consultants list was based on data provided by over 4,000 of the nation's most productive advisors. Factors included in the rankings: assets under management, revenue produced for the firm, regulatory record, quality of practice and philanthropic work. Investment performance isn't an explicit component because not all advisors have audited results and because performance figures often are influenced more by clients' risk tolerance than by an advisor's investment-picking abilities.
---
Disclaimer Notice
This material is prepared by Cornerstone Advisors Asset Management, LLC ("Cornerstone") and is not intended to be relied upon as a forecast, research or investment advice, and is not a recommendation, offer or solicitation to buy or sell any securities or to adopt any investment strategy. The opinions expressed are as of the published date indicated on the article and may change as subsequent conditions vary. The information and opinions contained in this material are derived from proprietary and nonproprietary sources deemed by Cornerstone to be reliable, are not necessarily all inclusive and are not guaranteed as to accuracy. As such, no warranty of accuracy or reliability is given and no responsibility arising in any other way for errors and omissions (including responsibility to any person by reason of negligence) is accepted by Cornerstone, its officers, employees or agents. This material may contain 'forward looking' information that is not purely historical in nature. Such information may include, among other things, projections and forecasts. There is no guarantee that any forecasts made will come to pass. Reliance upon information in this material is at the sole discretion of the reader.

Any accounting or tax advice contained in this communication is not intended as a thorough, in-depth analysis of specific issues, nor a substitute for a formal opinion, nor is it sufficient to avoid tax-related penalties.

The information is provided solely for informational purposes and therefore should not be considered an offer to buy or sell a security. Except as otherwise required by law, Cornerstone shall not be responsible for any trading decisions or damages or other losses resulting from this information, data, analyses or opinions or their use. Please read any prospectus carefully before investing.