"The Federal Reserve... is in the position of the chaperone who has ordered the punch bowl removed just when the party was really warming up."
- William McChesney, Jr.
Rehashing the "punch bowl" comment a Federal Reserve Chairman made back in 1955 is often a sign that an author has "mailed in" the current issue. It is our hope that this time is different. We do not relish revisiting Fed policy as regularly as has been the case – a hot stock market driven by a furious economic expansion makes for much better copy - but history continues to repeat itself.
For the past decade, whenever risk assets have sneezed, the Federal Reserve has prescribed industrial strength antibiotics. The overall economy is healthy, but the financial markets continue to be heavily influenced by monetary policy. For proof, search no further than each market tumult since 2008: the Greek debt crisis, the Taper Tantrum, the Debt Ceiling, Brexit, and the current trade war with China. Each has resulted in a rapid V-shaped recovery rather than a more drawn out U-shaped recovery, wherein equity prices would stay low for some period of time in a consolidation stage.
The story remains the same: a risk-averse global stock market selloff is quickly followed by Fed reassurances that it stands ready to protect global growth, which has erased the last downturn as the stock market recovers to achieve new all-time record levels.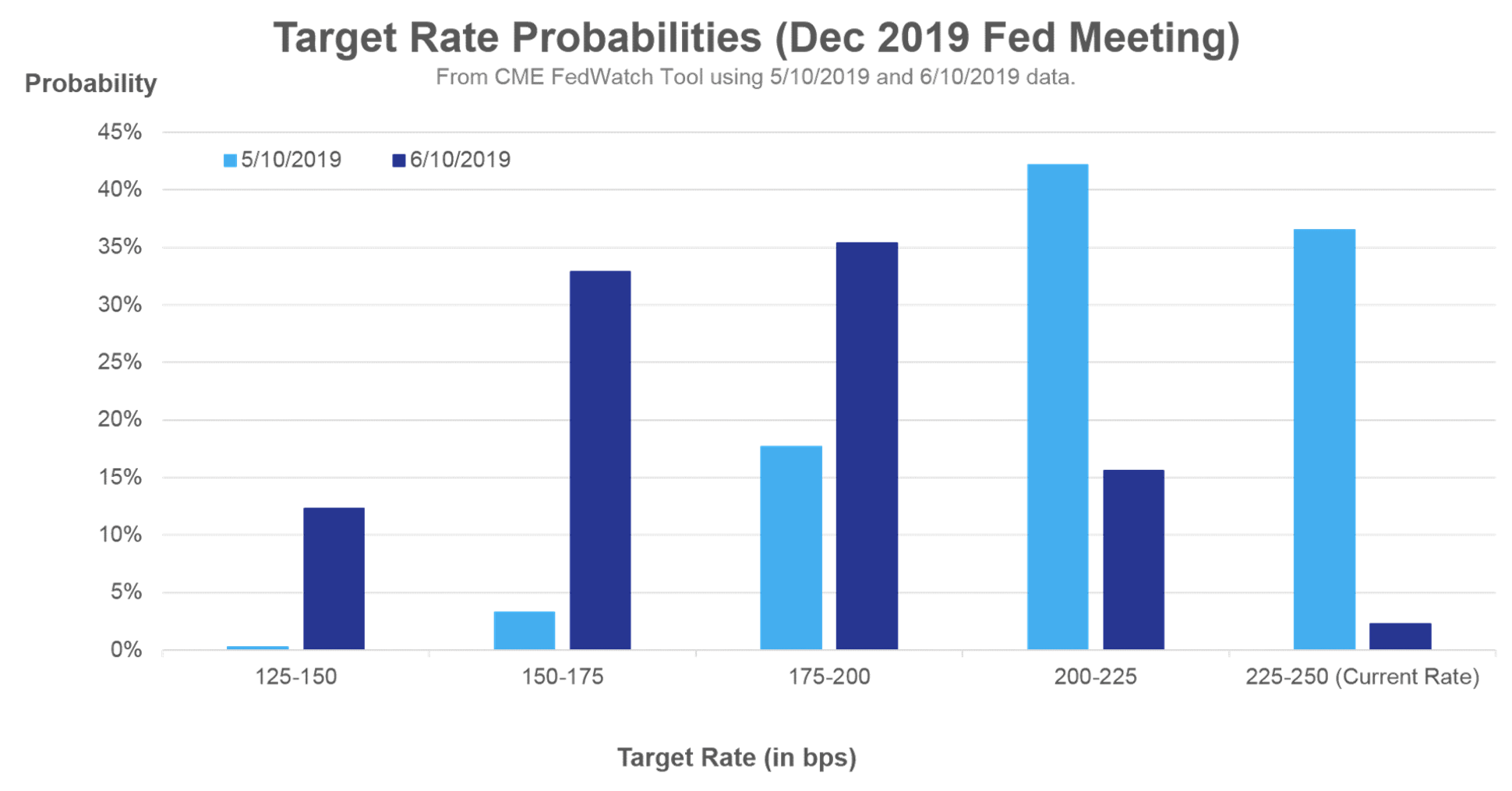 As the chart above indicates, in just 30 days, interest rate futures have moved markedly with regards to potential outcomes prior to the Fed's December 2019 meeting. On May 10th, the market was predicting an 80% chance of no more than a 25 basis point (0.25%) rate cut, whereas by June 10th, futures were indicating an almost even odds chance that the Fed will cut rates by 0.75% - 1.00%, with a slight probability that the Fed could cut even further.
Inflation is subdued, which may allow the Fed to act that aggressively if the economic expansion is in peril; however, investors should also realize that the "punch bowl" quote was the second part of a longer thought by Mr. McChesney. The first part read as such:

"In the field of monetary and credit policy, precautionary action to prevent inflationary excesses is bound to have some onerous effects – if it did not it would be ineffective and futile. Those who have the task of making such policy don't expect you to applaud."
Experience tells us that credit fueled hysterias cause lasting damage. If inflation is tame, and unemployment remains low (a conundrum discussed in a
previous edition
, do the monetary policy police need to turn attention to credit market excesses? We believe that the answer is no in the short-term.
We have not seen lending become tighter, nor have we seen signs of overleverage become blatant. Where do we look first for these signals? Banks and real estate, which, if not currently thriving, do not look nearly as overstretched as they have prior to other credit crashes. With the global economy as complex and diverse as it is, one can always find concern. Currently, student loans and subprime auto loans seem to garner the most attention, but it remains our belief that these markets do not constitute an imminent danger to the banking system.
As we have said many times before, so long as the Federal Reserve is providing a tailwind to the economy, risky assets may stay attractive to investors. This time, we will add the caveat that the Fed may start looking around for the next asset bubble if they do not have inflation or unemployment to fight.
Thanks as always and have a great start to your summer!
---
Disclaimer Notice
This material is prepared by Cornerstone Advisors Asset Management, LLC ("Cornerstone") and is not intended to be relied upon as a forecast, research or investment advice, and is not a recommendation, offer or solicitation to buy or sell any securities or to adopt any investment strategy. The opinions expressed are as of the published date indicated on the article and may change as subsequent conditions vary. The information and opinions contained in this material are derived from proprietary and nonproprietary sources deemed by Cornerstone to be reliable, are not necessarily all inclusive and are not guaranteed as to accuracy. As such, no warranty of accuracy or reliability is given and no responsibility arising in any other way for errors and omissions (including responsibility to any person by reason of negligence) is accepted by Cornerstone, its officers, employees or agents. This material may contain 'forward looking' information that is not purely historical in nature. Such information may include, among other things, projections and forecasts. There is no guarantee that any forecasts made will come to pass. Reliance upon information in this material is at the sole discretion of the reader.

Any accounting or tax advice contained in this communication is not intended as a thorough, in-depth analysis of specific issues, nor a substitute for a formal opinion, nor is it sufficient to avoid tax-related penalties.

The information is provided solely for informational purposes and therefore should not be considered an offer to buy or sell a security. Except as otherwise required by law, Cornerstone shall not be responsible for any trading decisions or damages or other losses resulting from this information, data, analyses or opinions or their use. Please read any prospectus carefully before investing.